This week it's a rather unusual indicator, one of my own inventions, the Reflation Trade Positioning Indicator. For those not familiar, the "reflation trade" refers to a lift in risk appetite driven by a resurgence in growth and inflation… basically an excuse to buy stocks and growth assets.
The chart comes from a report which outlined the risks and opportunities in commodities as an asset class (in the aggregate view).
The chart tracks futures positioning across the major reflation trade assets, and the key point is that it's rolling over from previous extreme readings. This lines up with some of the other trends and indicators we've been watching and adds to the tactically cautious outlook for growth assets.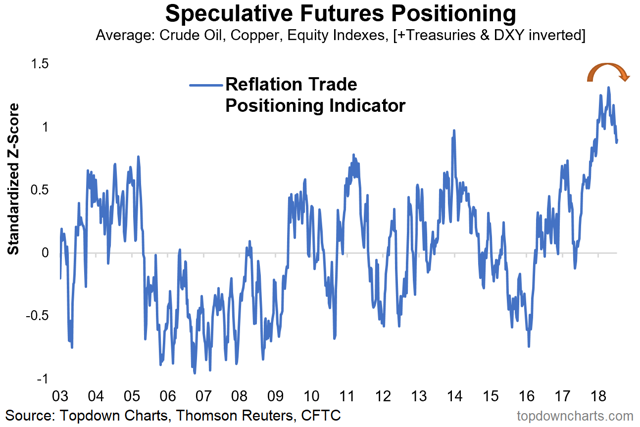 On the detail, the indicator takes net speculative futures positioning divided by total futures market open interest to standardize against history. We then take z-scores for each of the components to put them in common terms. The indicator takes an equal weight across crude oil, copper, and equity index futures, also bringing in Treasuries and US dollar index futures positioning – but inverse to align with the overall signal.
So the more committed and enthusiastic investors are about the reflation trade, the higher this indicator will be. Contrast the surge in this indicator in 2017 vs. the depths that it plumbed in early 2016 during the global growth scare and twin equity market corrections. It provides a good read or feel for where traders are positioned right now.
An important point to note with sentiment indicators like this is that when it reaches extremes, it shows that investors have crowded to one side of the boat. If it's plain sailing, then that's OK, but at the slightest sign of trouble, it can lead to panic selling and to carry the metaphor – markets can end up capsized.
Given some of the other trends and early warning indicators we're watching right now, the rollover in this indicator seems to make sense… So we believe a more cautious approach is warranted in the immediate term, particularly with regards to commodities and emerging markets.
Support 100% ad-free Biiwii.com by making a donation of your choice!
Or better yet, subscribe to NFTRH Premium for an in-depth weekly market report, interim updates and NFTRH+ chart and trade ideas to get even more bang for your buck. You can also keep up to date with plenty of actionable public content at NFTRH.com by using the email form on the right sidebar. Or follow via Twitter @BiiwiiNFTRH, StockTwits or RSS. Also check out the quality market writers at Biiwii.com.