Divergent: It's Dalio (And Asness) Versus Everyone Else as Money Flows to Europe Stocks (Fed Tightening As ECB Maintains Accommodating?)
Money is following to European stocks as jitters struck the US stock markets and The Federal Reserve continues to slowly normalize its monetary policy.
(Bloomberg) — Billionaire Ray Dalio has $18.45 billion in bets against Europe's biggest stocks. Most of the rest of the investing world is headed in the other direction.
U.S. stocks lost $9.7 billion in investment so far this month while Eurozone shares have gained $3.2 billion, according to data compiled by Bloomberg. Peers of Dalio's firm, Bridgewater Associates, are mostly wagering that Eurozone equities will rise.
"I'm surprised. That's a big bet. Dalio and his team are very confident," said Rick Herman, managing director of asset allocation who helps oversee about $30 billion at BB&T Institutional Investment Advisors Inc. "That's definitely out of consensus. European stocks are cheaper, and they also have stronger earnings growth." 
Dalio has always marched to the beat of his own drummer, so his big short position, especially when other hedge funds are betting in the opposite direction, could be seen in that context.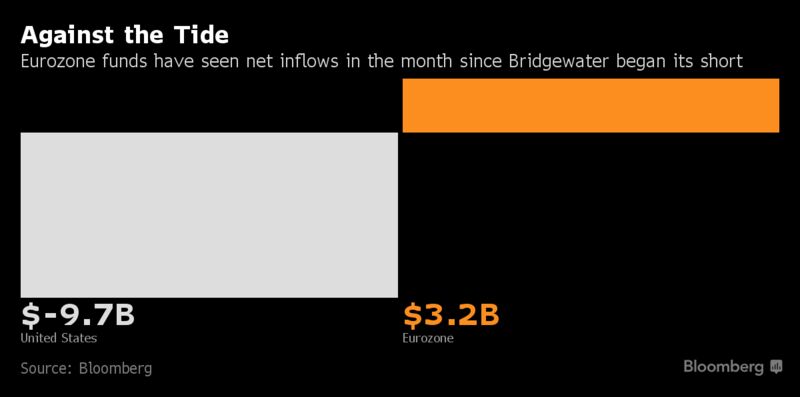 Continue reading It's Dalio Versus Everyone Else as Money Flows to Europe Stocks…